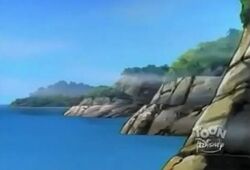 Loch Ness
is a long, deep lake in
Scotland
. It served as a stop during the
Avalon World Tour
.
History
Tales of monsters in the loch date back to before the times of Princess Katharine, who shared the stories with the hatchlings on Avalon. In the 6th century, St. Columba traveled to Loch Ness, where he tamed one of the animals living there. [1]
In 1994, David Xanatos commissioned Dr. Anton Sevarius to capture the Loch Ness monster. He and his security force, led by Bruno, captured one of the beasts, dubbed Nessie, and were pursuing one Sevarius called Big Daddy, when the Avalon travelers appeared on Loch Ness. During the pursuit of Big Daddy, the security team overturned the skiff carrying the travelers, and they captured Angela, bringing her to a secret base.
Goliath, Elisa, and Bronx washed up on the shores of Loch Ness, where they continued the search for Angela. During the day, Elisa found members of Xanatos' Security force, whom she tracked back to their base. Meanwhile, Sevarius had collared Nessie, and set her free, so as to track her to Big Daddy.
Unfortunately for Sevarius, the Avalon travelers managed to rescue Angela, un-collar Nessie, and destroy Sevarius' submarines. [2]
Characteristics
According to a tour guide, the loch is 24 miles long, a mile and a half wide, and up to 900 feet deep. [3]
Appearances
Season 1
Season 2
Season 3

  1. Awakening
  2. Awakening, Part Two
  3. Awakening, Part Three
  4. Awakening, Part Four
  5. Awakening, Part Five
  6. The Thrill of the Hunt
  7. Temptation
  8. Deadly Force
  9. Enter MacBeth
10. The Edge
11. Long Way to Morning
12. Her Brother's Keeper
13. Reawakening

  1. Leader of the Pack
  2. Metamorphosis
  3. Legion
  4. A Lighthouse in the Sea of Time
  5. The Mirror
  6. The Silver Falcon
  7. Eye of the Beholder
  8. Vows
  9. City of Stone, Part One
10. City of Stone, Part Two
11. City of Stone, Part Three
12. City of Stone, Part Four
13. High Noon

14. Outfoxed
15. The Price
16. Revelations
17. Double Jeopardy
18. Upgrade
19. Protection
20. The Cage
21. Avalon, Part One
22. Avalon, Part Two
23. Avalon, Part Three
24. Shadows of the Past
25. Heritage
26. Monsters

27. Golem
28. Sanctuary
29. M.I.A.
30. Grief
31. Kingdom
32. The Hound of Ulster
33. Walkabout
34. Mark of the Panther
35. Pendragon
36. Eye of the Storm
37. The New Olympians
38. The Green
39. Sentinel

40. Bushido
41. Cloud Fathers
42. Ill Met By Moonlight
43. Future Tense
44. The Gathering, Part One
45. The Gathering, Part Two
46. Vendettas
47. Turf
48. The Reckoning
49. Possession
50. Hunter's Moon, Part One
51. Hunter's Moon, Part Two
52. Hunter's Moon, Part Three

  1. The Journey
  2. Ransom
  3. Runaways
  4. Broadway Goes Hollywood
  5. A Bronx Tail
  6. The Dying Of The Light
  7. And Justice For All
  8. Genesis Undone
  9. Generations
10. ...For It May Come True
11. To Serve Mankind
12. Seeing Isn't Believing
13. Angels In The Night

SLG comic books

Gargoyles #1. Clan Building Chapter One: Nightwatch
Gargoyles #2. Clan Building Chapter Two: The Journey
Gargoyles #3. Clan Building Chapter Three: Invitation Only
Gargoyles #4. Clan Building Chapter Four: Masque
Gargoyles #5. Clan Building Chapter Five: Bash
Gargoyles #6. Clan Building Chapter Six: Reunion
Gargoyles #7. Clan Building Chapter Seven: The Rock
Gargoyles #8. Clan Building Chapter Eight: Rock & Roll
Gargoyles #9. Clan Building Chapter Nine: Rock of Ages
Gargoyles #10. Clan Building Chapter Ten: The Gate
Gargoyles #11. Clan Building Chapter Eleven: Tyrants
Gargoyles #12. Clan Building Chapter Twelve: Phoenix

Bad Guys #1. Strangers
Bad Guys #2. The Lost
Bad Guys #3. Estranged
Bad Guys #4. Louse
Bad Guys #5. Strangled
Bad Guys #6. Losers
References
Ad blocker interference detected!
Wikia is a free-to-use site that makes money from advertising. We have a modified experience for viewers using ad blockers

Wikia is not accessible if you've made further modifications. Remove the custom ad blocker rule(s) and the page will load as expected.